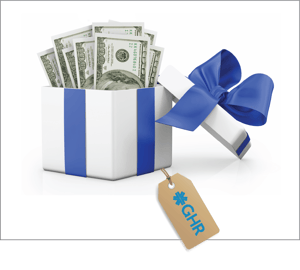 With the holiday season fast approaching, we wanted to remind you of two ways you could put some extra money in your pocket to help make the holidays even merrier.
Refer a Friend
One thing we know, good people typically know good people. We think the men and women who work for us are the best, and we're always looking for more good people to put to work.
If you know someone ready to change jobs, searching for a new position, or wanting to earn some extra money, pass their name and contact information along to us.
You'll be helping your friends discover terrific new opportunities, and if they come to work for us, you can earn a great referral bonus in the process. Contact your GHR representative for more information.
Your SHOT @$5K Giveaway!
It's not too late to enter our Your SHOT @$5K Giveaway! promotion. You have until the end of October to submit your entry to win some incredible prizes:
3 Grand Prize Winners of $5,000 each
3 Second Place Winners of $1,000 each
4 Runner-Up Prizes of a YETI Tundra 45 each
The requirements for being eligible are simple:
Be in good standing with GHR and have worked at least one shift/day for any GHR company since 1/1/21, and
Complete our entry form at

Giveaway Entry Form | GHR Healthcare, and
Include a copy of your completed COVID-19 vaccination card
We hope you'll take advantage of both of these opportunities for some extra holiday cash! If you have any questions about either of these opportunities, give our office a call.
Thanks, and stay well.