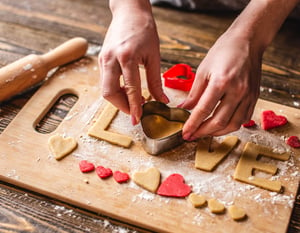 With Valentine's Day fast approaching, now is the time to start planning a day…and an evening…to remember for your loved one.
Valentine's Day shouldn't be about fancy nights out or mega-expensive gifts. It should be about showing those you care for how you feel. Following are some ideas and tips to help you pull off the perfect 2022 Valentine's Day.
For a Causal Evening on the Couch
For many, nothing says love like a cozy night on the couch watching a great movie. For those interested, great news, there are some terrific Valentine's Day movies to choose from. Check out this Town & Country list of the 20 Best Valentine's Day Movies Ever Made.
How do you make it a perfect movie night? Easy, try this incredible recipe from Two Sisters, Valentine's Day Popcorn. It's easy. It's salty. It's sweet. It's romance in a bowl.
For a Food Lover's Dream
Forget the Valentine crowds and over-priced entrees, with a little effort you can pull off an epicurean's delight at home. From decadent Lobster Mac & Cheese to a perfect Filet Mignon, check out these Romantic Dinners for Two recipes from Delish.com.
As long as you're celebrating, you might want to toast the night with a Valentine's themed adult beverage. Here are 20 Valentine's Drink Ideas from Totally the Bomb. Cheers!
For the Entire Family
Looking to include the entire family in on your Valentine's Day fun? Here's a great starting place for, 7 Fun Valentine's Day Games for Kids to Play at Home from Parents.com. Not only are the games terrific, but it gives you plenty of links to other great ideas for family-fun crafts, recipes, movies, and more.
For Long Distance Celebrations
Just because you and your significant other might be spending Valentine's Day in different locations, doesn't mean you have to pass up on all the fun. Here's a clever collection of ideas from Thoughtful Gift Club.com, 10+ Long Distance Valentine's Date Ideas - All Virtual, But Still Romantic.
More Ideas…
Didn't find anything above to float your boat? No problem, here is a great reference article from O, the Oprah Magazine. 35 Unique Valentine's Day Date Ideas That Go Way Beyond Dinner and a Movie has all kinds of unforgettable ideas for making your Valentine's Day perfect.
To all our GHR family, Happy Valentine's Day! Make it a safe, special and fun day