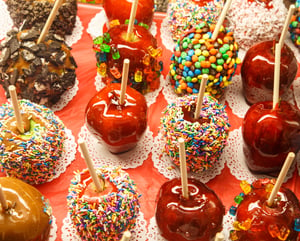 Fall is in the air.
The earthy smell of leaves, the crisp weather, the warming of apple cider, the excitement of Oktoberfest. The fall season is a favorite time for many, in part thanks to the fall festivals and fairs that pop up across the country throughout the season.
From big city events to small town traditions, festivals are a prized part of Autumn. The problem is, ask a dozen people what their favorite fall festival is, and you get a dozen answers. So, we thought we'd ask you!
Below is a half dozen options we've pulled together to get you started, but we'd love your thoughts too. Have a favorite you don't see on the list? Great, click the button below and take 30-seconds to give us your suggestion.
Punkin' Chunkin' Festival – October 6, 2021. The name alone qualifies this Thousand Islands-Seaway, New York festival.
Albuquerque International Balloon Fiesta, New Mexico. Breathtaking balloons fill the skies, competitions, carving demos, and spectacular fireworks. October 2 – 10.
National Apple Harvest Festival, October 2 & 3 and 9 & 10, Arendtsville, PA. A great family celebration of all thing's apple, as well as hayrides, puppet shows, and a petting zoo.
Duluth Fall Festival, Duluth, GA September 25 – 26. A town-wide celebration complete with concerts, carnival rides, parades, and plenty of local fare.
Octoberfest Zinzinnati, September 16 – 19, 2021, Cincinnati, Ohio. Experience southwest Ohio's rich German heritage with authentic food, music, and beer at the largest Oktoberfest celebration in the U.S.
Austin City Limits Music Festival, October 1-3 and 8-10. Austin, TX. ACL is a musical feast – 8 stages, 100+ performances, spread over two weekends. Oh yeah, great food and activities too.
You can't go wrong with any of these amazing events, but these are just the tip of the iceberg. If you didn't find your favorite, tell us your fav.
Thanks, stay well, and welcome to fall y'all.