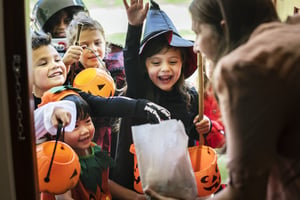 October is here, and with it, we turn our attention to the scariest festivity of the year…Halloween!
Yes, Halloween is our annual celebration of all things that go bump in the night, making us jump at our own shadows. The question is, if it's so creepy, why is it celebrated by an estimated 70% of the U.S. population and loved by children and adults alike?
Well, ignoring the sugar intake, it seems there are some real benefits to fright night.
Halloween Therapy
According to many experts, Halloween provides us with a mini-therapy session, helping us cope with our fears and phobias. Scary decorations, horror movies, haunted houses and such give us a way to face those things that scare us in a more light-hearted way, helping us gain some perspective on dealing with our everyday anxieties.
Social Integration
Anthropologists say that Halloween plays an important role for both adults and children. For adults it has become a widely accepted form of escape, at least for a night. There are few, if any social pressures involved and it actually encourages us to step out from the everyday norms of life and act out our fantasies.
For children, it is an important cultural bonding experience, shared in one form or another by almost all families across the United States. Additionally, it allows children to challenge the traditional power structure of society. Kids get to dress up as their favorite characters and go around the neighborhood demanding candy from adults…and getting it. For at least a night, they are in charge.
The No-Pressure Holiday
Okay, at least for adults, here is the main reason Halloween is such a popular event: we don't have to worry about it. There's no real pressure. Nobody panics about being lonely, abandoned, heartbroken, or alienated on Halloween. There is no emotional tension surrounding Halloween. There's rarely family friction, visiting in-laws, or high-stress parties to survive. It's a laid back, have some fun, and enjoy yourself kind of night.
There you have it. Three good reasons to embrace the season and go all out this Halloween. Don't do it for the candy, popcorn balls, fancy costumes, scary decorations, and such; do it because it's good for you!
So, treat yourself to a fun-filled Halloween and stay well.